FAQ's and Map
We hope these answers help you! If you don't find the answer you're looking for, please contact us!
What will I see?
Tour G-scale indoor & garden train displays. Meet the owner Barrie L. Roberts, and spend the day outdoors.
Where are you located?
242 Ave at 48th Street M.D. Foothills #31, approx. 5 KM west of DeWinton Alberta.

1.5 miles west of the Calgary Firearms Centre which is on the 552X Hwy.
DeWinton Station Garden Railway
#1 Valleyview Acres, 48010 - 244 Ave. W. Foothills, AB T1S 4C5
242 Avenue & 48 Street West of
DeWinton, Alberta T1S 4C5
Directions from Calgary: turn west from MacLeod Trail (#2A Hwy) onto #552 Hwy (at South Calgary city limits) then go 3 KM southwest (road will curve south). After you cross over the CPR mainline turn west onto 242 Ave. W. and go up hill 1.5 KM to 48 St. We are on the SW corner located within the trees. Turn left at the Valleyview Acres rock sign and look for Bearie the Greeting Bear within the trees.
Driving instructions from Calgary:
1. Highway 2a south to Calgary City Limits
2. Turn west (right) onto 226 Ave. (Secondary 552X Hwy.) at tee pee
3. Drive around bend and just past train tracks
4. Turn west (right) onto 242 Ave. W. to top of the hill
5. Turn south (left) at 48 Street W.
6. Turn west (right) on 244 Ave. W.
7. We are acreage #1 Valleyview Acres
How do I get there?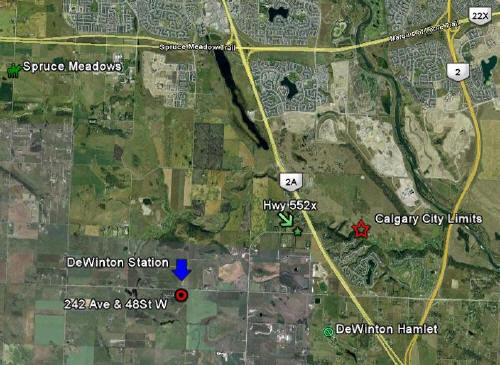 Get the Google map and directions - click here.
Do you have washrooms?
The residence has two washrooms for visitor use - access on south side of residence at caboose entrance located within the breezeway. One located at the entrance just inside the door and another in the basement layout area.